To contact Winco Foods your first port of call should be their website, which has a "contact us" section. I'm actually having trouble getting a reply from their website though - so here are some contact details which should be more helpful: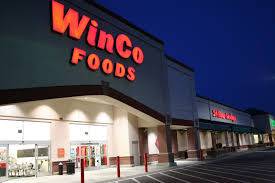 The Winco Foods phone number is (208) 377-0110. If you explain the problem to them hopefully they will be able to put you in touch with the
If, for some reason, you can't get through by phone, you might want to try writing to them instead. Their address is:
Winco Foods LLC
650 N Armstrong Pl
Boise, ID, 83704 United States
If you do send a letter, do not put anything too personal. We don't know for sure that it is going to the right department, so you don't want to be giving your social security number or salary amount to whoever happens to receive it.
Wait for a reply and then respond with the details they request. Generally, just your name, address, and the branch that you work/worked at will be enough for them to help you. Keep a copy of the letters that you send to them. If you don't get what you are looking for you might need to seek legal advice and copies of correspondence will help.
Good luck, I hope you get your pay stub soon.