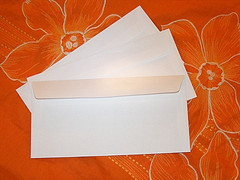 What is a letter of application?
A letter of application is more commonly-known as a covering letter. A covering letter of application is an introduction attached to, or accompanying, another document such as a CV.
Job seekers frequently send a cover letter along with their CV or employment application, as a way of introducing themselves to potential employers, and explaining their suitability for the desired position.
Employers may look for individualized and thoughtfully-written cover letters as one method of screening out applicants who are not sufficiently interested in the job on offer, or those who lack the necessary basic skills.
Cover letters are generally one page at most in length, divided into a header, introduction, body, and closing.
The Header of a cover letter is usually written like any other standard business letter, with the sender's address and other information, the recipient's contact information, and the date sent after either the sender's or the recipient's address.
Following that, is an optional reference section e.g. RE: Internship British Telecom and an optional transmission note e.g. Via Email to [email protected] The final part of the header is a salutation e.g., Dear Hiring Managers.
The introduction briefly states the specific position desired, and should be designed to catch the employer's immediate interest.
The body of the cover letter highlights or amplifies material in the resume or job application, and explains why the job seeker is interested in the job and would be of value to the employer. Also, matters that are discussed typically include skills, qualifications, and past experience. If there are any special things to note, such as an availability date, they may be included as well.
A closing is used to sum up the letter, and indicates the next step the applicant expects to take. It may indicate that the applicant intends to contact the employer; although many favor the more indirect approach of simply saying that the applicant will look forward to hearing from or speaking with the employer. After the closing is a valediction, e.g. Sincerely, and then a signature line or optionally, the abbreviation ENCL may be used to indicate that there are enclosures.